History:
A neonate presents with a cystic mass in the sacral region.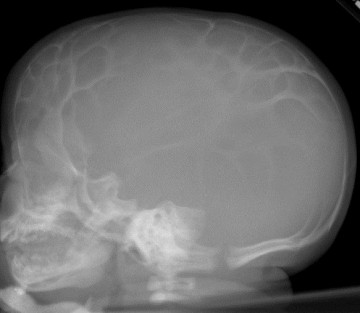 Questions:
1. What is the most likely diagnosis?
A. Prominent convolution markings of the skull
B. Parietal foramina
C. Lacunar skull
D. Venous lake
E. Wormian bones
Show correct answer
Next Question »
2. Which abnormality is not associated with a lacunar skull?
A. Myelocele
B. Encephalocele
C. Arnold-chiari malformation.
D. Dandy-walker syndrome.
E. Present as a solitary abnormality.
Show correct answer
« Previous Question
Next Question »
3. In relation to a lacunar skull which statement is false?
A. The lesion can involve the inner table, diploic space and outer table of the skull.
B. This abnormality is not present in the base of skull and the lower half of the occipital bone.
C. This abnormality should be differentiated from a silver-beaten or copper-beaten skull, resulting from chronically increased intracranial pressure.
D. The hydrocephalus in patients with Arnold-Chiari malformation can cause a lacunar skull.
E. The lacunar skull disappears by 4-6 months of age, regardless of whether intracranial pressure is normal, decreased or increased.
Show correct answer
« Previous Question
Show discussion
References:
Swischuk LE. Head, Brain and Meninges. In: Imaging of the Newborn, Infant and Young Child. 4th edn. Williams and Wilkins, Baltimore, Maryland: 934-935.